Donald Trump has a new target: "Crooked polls."
With Hillary Clinton extending her lead nationwide and in key battleground states, Trump is toying with what might be called "poll denialism," giving his supporters license to dismiss the discouraging data.
"Even the polls are crooked," he said at a Monday night rally, expressing disbelief that he is losing to Clinton in Pennsylvania. "Look, we're in a rigged system."
Trump has only topped Clinton in one scientifically conducted poll in Pennsylvania since it became clear he would be the GOP's nominee back in April, while Clinton has been in the lead in 18 of them. In the most recent polls, Clinton holds a double-digit lead there.
On Tuesday when Bill O'Reilly told him that "you're behind with women," Trump responded, "I'm not sure I believe it. I'm not sure I believe it."
Nearly every national poll finds Clinton well ahead among women, and she holds a 17-point lead among women in the most recent national polling on the race from NBC and the Wall Street Journal.
At a rally Tuesday night, Trump told fans, "The polls are pretty even in Florida. Don't let me down!"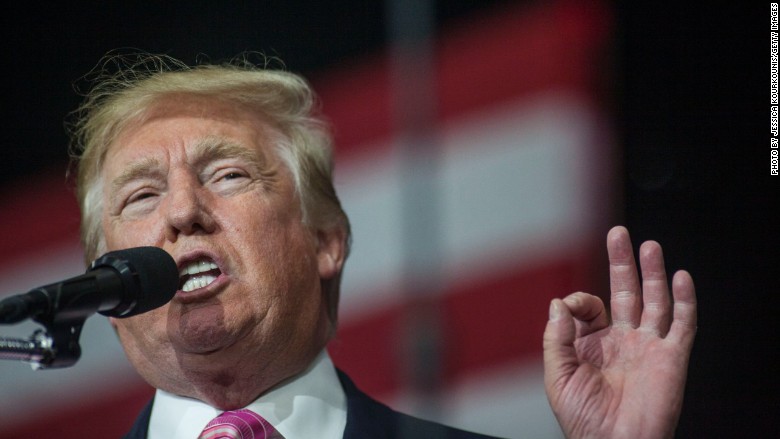 Trump's assessment was true a month ago, but in more recent polling, Cinton holds a narrow lead over Trump in all the scientific polling conducted since the first debate.
Some of Trump's bullish talk is run-of-the-mill campaign rhetoric — rallying the base — but there are times when Trump and his aides are clearly misleading voters.
Trump told O'Reilly that "Virtually everybody, other than, you know, some crooked polls, said that we won the debate easily."
In fact, every scientific poll of debate watchers found that Clinton was the victor.
O'Reilly did not interject to correct Trump.
But MSNBC's Lawrence O'Donnell was blunt about the reality on his Tuesday night program: "There is no real poll showing Donald Trump winning the second debate."
On Twitter earlier in the day, Trump said "every poll" showed him winning in a "landslide."
Trump's apparent source for this belief: Unscientific online surveys published by sites like The Drudge Report and Breitbart. These surveys allow people to vote multiple times and don't purport to measure nationwide public opinion. At best, the surveys may measure enthusiasm.
Related: The problem with Donald Trump's 'we won every poll' claim
Trump read the survey results aloud at a rally on Monday night. "Drudge is a great guy, right?" he said.
Some news outlets that posted "who won?" surveys after the first debate decided not to do so after the second debate, apparently as a result of Trump incorrectly portraying the data.
Trump sometimes cites the size of his crowds as evidence that the race is more competitive than the polls indicate. Virtually all political experts dismiss the anecdotal evidence that crowd size can provide as a real predictor of election results.
NBC late night host Seth Meyers joked about it on Tuesday night: "Just because you draw big crowds doesn't mean you're winning the election. If all you needed to win was a big crowd of people, our next president would be Ikea on a Saturday."
A campaign fundraising email from Eric Trump on Wednesday cited "huge gains" and contained a map showing blue states changing to red. This positive spin is not backed up by the facts; indeed, FiveThirtyEight suggested that Eric Trump may have been using a map it produced showing what would happen if only men voted.
Trump spokesman Jason Miller cited crowd size and pro-Trump "energy" during a Wednesday morning interview on Fox News. Miller said the GOP nominee had a "great bounce" in polls after the second debate and predicted this: "I think by the time we wake up tomorrow, I think this is probably going to be a dead even race. Maybe even Mr. Trump ahead by a little bit."
Later in the same hour, political scientist Larry Sabato said on Fox, "I don't know how he came up with that one."
In 2012, there was an active effort by some conservatives to cast doubt about the polls that showed President Obama prevailing over Mitt Romney. This so-called "unskewed polls" movement is now a punchline.
Source: http://money.cnn.com